Keeping
Cal-a-Vie Health
Spa Safe & Clean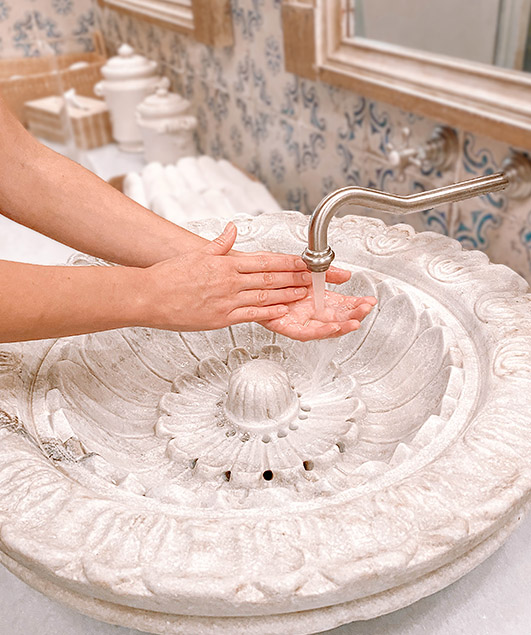 Committed
to a Healthy
Community
Cal-a-Vie Health Spa is open to guests and offering our full program of spa treatments, fitness classes, nutrition consultations and more. Our reservations agents are available to help you book your luxury spa getaway. We remain dedicated to keeping Cal-a-Vie Health Spa clean and sanitized for the safety of our guests and staff. Please continue reading to learn more about the enhancements we have made to our already strict cleaning standards. We are grateful for the support from our local community and all our guests and we look forward to seeing you soon! 
Highlights

Cleaning Protocols
As needed, we will continue to use cleaning products and protocols that meet EPA guidelines and are approved for effective use against viruses, bacteria, and other airborne pathogens.

Food & Beverage
Dining areas have been modified to accommodate social distancing requirements, and staff are assigned duties that prevent and or minimize cross-contamination.

Our Dedicated Team
All employees receive training on COVID-19 safety and sanitation protocols, with more comprehensive training for our teams with frequent guest contact.
Staff Safety Protocols
Face masks are recommended for guests who have not been fully vaccinated. Face masks are required for staff members who have not been fully vaccinated. Extra face masks are available at the Front Desk upon request.
Steps We're Taking
Cal-a-Vie Health Spa is complying with all local and state health guidelines.
All guest villas are individually temperature controlled with no shared air circulation.
Visible signage is posted throughout the property as a continual reminder to wear a face masks if not fully vaccinated.
Appropriate PPE is required by all employees based on their role and responsibilities, and in adherence to state and local regulations.
Hand sanitizer dispensers are placed at key guest entrances and contact areas. Additionally, guests receive complimentary hand sanitizer.
Guest rooms are cleaned three times per day.
Clean towels will be available daily upon request.
The frequency of air filter replacement and HVAC system cleaning has been increased, and fresh air exchange has been maximized.
While we will continue to adhere to Covid Safety Best Practices for our guests and staff, you can click here to learn more about the guidelines for the state of California.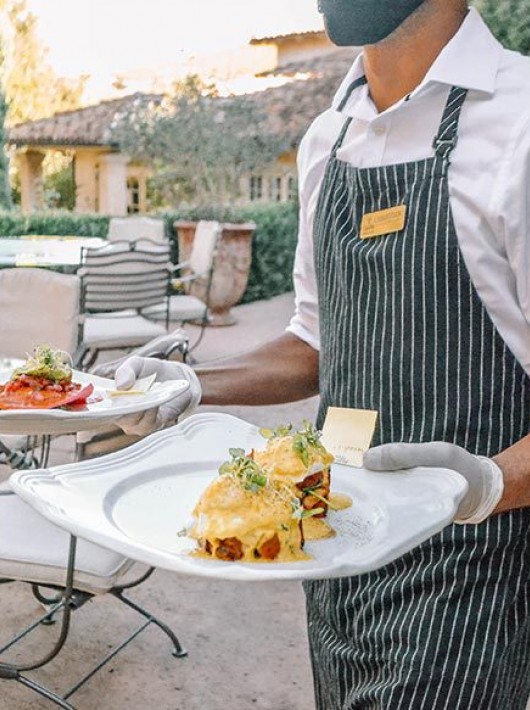 Check In & Check Out
Signage is in place where needed according to the state recommended guidelines. Though guests are welcome to stop by the front desk at any time, guests do not need to visit registration to check out. Copies of their final bill can be emailed, faxed, or mailed upon request directly by the front desk.
Guest Rooms
Industry-leading cleaning and sanitizing protocols are used to clean guest rooms. Guest rooms are cleaned three times per day. Sanitizing products are deployed into the rooms by use of an electrostatic fogging machine to maximize effectiveness prior to a room being occupied, and when the room is vacated.
Fitness
More frequent cleaning and sanitation protocols are being followed to maximize safety in fitness spaces, and equipment is disinfected after each use.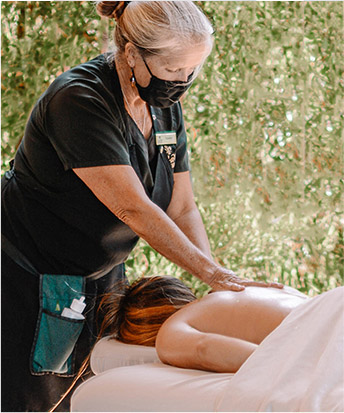 Spa & Beauty
Treatment rooms are sanitized prior to and after every session. Staff are also required to wear industry-leading PPE and follow established guidelines.
Retail
While shopping in our Boutique and Antique Boutique, guests do not have to wear a face mask though we recommend it for anyone not fully vaccinated.
*Cal-a-Vie Health Spa has enhanced all health and safety measures for the benefit of our guests and employees. It is required by all persons who enter the property to follow posted instructions. Although our resort is spacious and relatively secluded, exposure to the Covid-19 virus still exists in any place where people are present. By visiting Cal-a-Vie Health Spa you voluntarily assume all risks related to exposure to Covid-19.