Spring Green and a Beautiful History Lesson
Green with Envy and a Beautiful History Lesson
by Beryl Dusenberry, Antique Boutique Manager and In-House Interior Designer
Bonjour! If you missed the April Spring Green Tablescape and Antique Table Talk at Cal-a-Vie Health Spa's Antique Boutique, please continue to read with (green) envy! Spring Green is a color that was termed back in 1766. In the 20th century the colorists changed the name to Spring Bud. The Antique Boutique is a treasure trove of Spring Green!
We have highlighted the coveted Limoge and Ginori porcelain. The green, white and gold monogrammed porcelain is by William Guerin & Co of Limoge, France and dates to the mid 1800's. Only one small side plate had the makers mark, which may be because it was made custom for the patron. We combined the French Limoge porcelain with the sweet demitasse set by Richard Ginori. Both use the Spring green, gold and white with very simple ruffles. Carlos Ginori started his porcelain factory in the mid 1700's scouring the hills of Tuscany in search of the perfect white kaolin clay. Tuscany was still under Napoleonic rule when he started his factory near Florence. His company merged with Richard Ceramics in the 1800's; hence, the name Richard Ginori. As time went by and the competition with China was overwhelming, both William Guerin and Ginori went bankrupt and were bought out. Gucci acquired Ginori and more recently has been purchased by another company who has brought back the original Ginori designs and renamed the company "1753", the year Carlos Ginori established his porcelain factory. You can see the Ginori porcelain used throughout the Vatican (and our boutique)!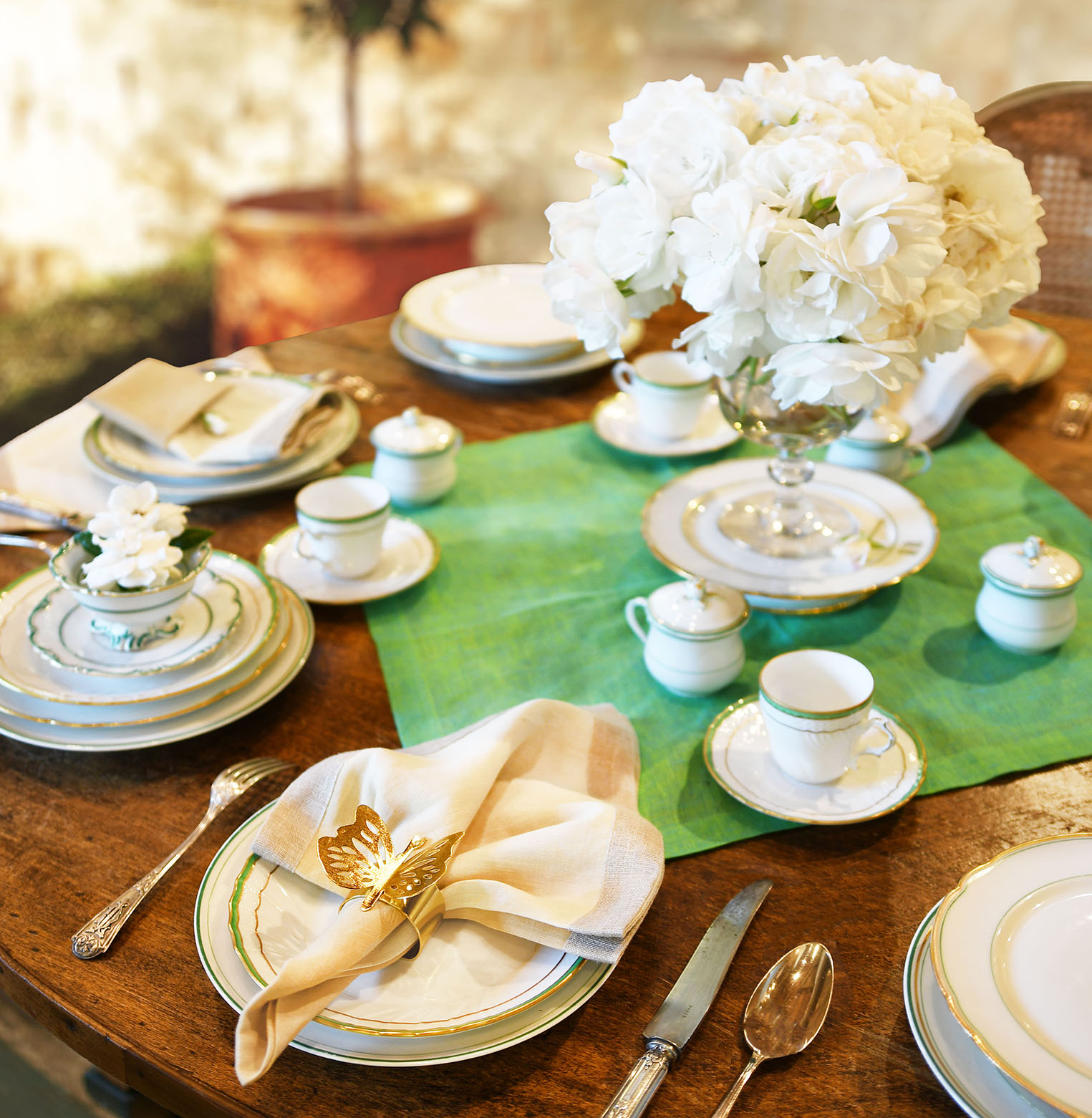 Our table setting is inspired by a "petite dejuner" Provencal setting; a Provence, small breakfast table setting. This time of year in Provence, the fields of lavender are harvested and we love that our lavender is also blooming here at Cal-a-Vie. Spring is the perfect time of year to enjoy all the precious moments that new spring beginnings bring to us. Our table is set using the "a la francaise style", which in America we call family style; where the food is brought to the table and everyone helps themselves. You may notice that the fork tines are facing downward, a tradition used in France as they wanted to expose their coat of arms or their monogram which was engraved on the back of the fork. They also felt that the fork tines facing down was more passive in comparison to the tines facing upward. How thoughtful! Interestingly, the French actually used their fingers and spoons until the Italians introduced them to the original fork which had 3 tines. Our dip dye linens and napkin rings are the 21st century modern touch and a classic. The folded napkin style is called the "french pocket" and is very easy to do, even if you are not so great at Origami. It is perfect for a flower, herb or place card.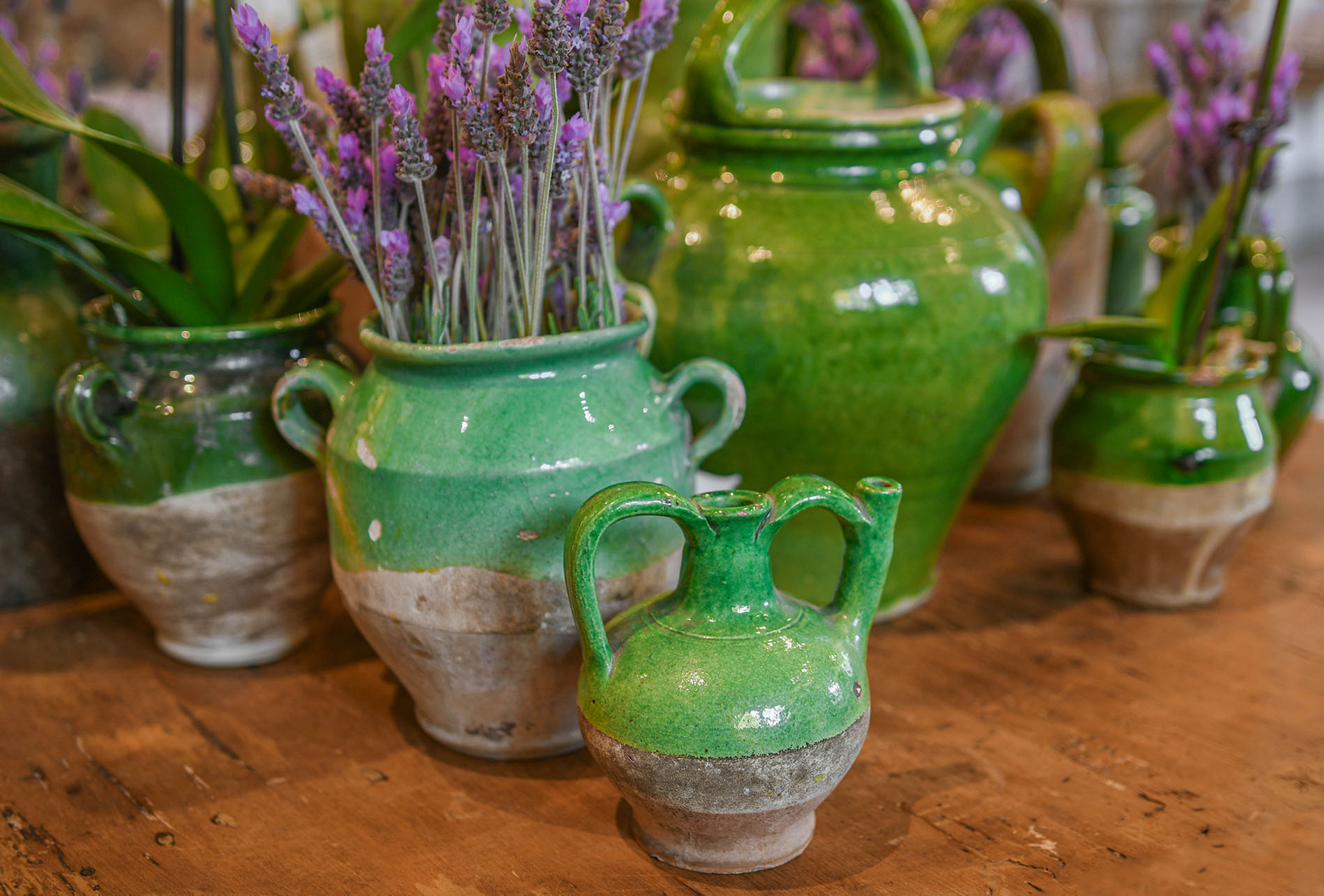 We would be amiss if we didn't talk about our green glazed country french terra cotta glazed pottery and confit pots. The green glaze is considered rarer than the mustard yellow glazed pottery. Confit pots have been used for centuries before refrigeration. Louis the IV loved his duck confit and would have barrels brought to him. The French used the pottery to store their game for the winter. They would fill the pot with rendered duck fat and their game of choice. They would then bury their pot in the ground to where the glaze stops as their point of reference. They also used the terra-cotta glazed pottery to store their vinegars, wines and olive oils. The glazed pottery looks beautiful in a group or on its own. I love to fill ours with fresh picked lavender at Cal-a-Vie.
Our emerald green, hand blown 19th century Italian glass bottles and green glass basket bottles were used to store wine. Using glass to store wine was not popular until the 1800's. Early wine bottles had fat bottoms and short necks, over time the necks became longer and slimmer and by 1820 wine bottles took the form of what you see today. The early wickering of glass bottles is believed to hide what was inside to avoid taxation of alcohol. If you have an infinity for collecting bottles, these do not disappoint! Interesting mention-- in WW1, the French soldiers were given daily wine rations. When WW1 started, the French gave their soldiers a daily ration of a quarter liter. By the end of the war, they had increased the daily ration of wine to 3/4 liter, which is our standard wine bottle. All that wine equates to 316 million gallons of wine in 1916 alone! Cal-a-Vie has stupendous wine selections, by the way, with no rations.
We have a large collection of herbarium botanicals, both in provincial patina window frames as well as the specimens that were found in a cabinet of a curiosity shop in the 7th arrondissement in Paris. They were taken out of the herbarium volume and individually framed in France. Herbariums started in the 1500's strictly on medicinal herbs by an Italian doctor/botanist and then in the 1600's a French Professor started to identify other plant species. The Natural History Museum of Art in Paris has one of the most collected herbariums with over 9.5 million species identified! They can still be used in our current science world as the specimens still carry their plant DNA which has become very useful to our current botanists. Not only are they helpful in our science world, they make a beautiful artwork statement.
Please visit our Antique Boutique website to shop these beautiful antique treasures or stop in soon on your next visit!
Au Revoir, in good health,
Beryl at the Cal-a-Vie Antique Boutique