Packages
REFRESH AND RENEW YOUR MIND AND BODY
We have enhanced our program experience! If you are craving the peace and tranquility found in a guided meditation, or perhaps it is the high energy of strength building or a spin class, or even the joy of discovering the power of food as medicine, we will make sure you are fully supported throughout your entire experience at Cal-a-Vie Health Spa embracing the mind, body and soul.

Our Refresh and Renew experiences are designed to empower you to take R&R to a whole new level within a luxurious, life-changing wellness retreat.
Included in your stay are classes to learn:
CREATING BALANCE FOR THE MIND AND BODY
When we take the time to meditate, use our breath and journal, we create balance for our mind and body. This is so important and Cal-a-Vie Health Spa has all the tools you need to learn how to make this a part of your lifestyle. We have a phenomenal team that knows everything about this and will coach you on how to use it to enhance your every day life. We provide techniques that you can practice and incorporate into your lifestyle.
FINDING YOUR BEST HEALTH THROUGH FITNESS AND FOOD
Fitness and food go hand in hand when it comes to good health. Our Chef cares about what you eat and why by working on every detail to ensure that your meals not only taste delicious, but that they adhere to the good health that our Cal-a-Vie philosophy stands for.
We take it even further by helping you understand what works best for you through many of our classes. Transforming Your Brain Through Fitness and Food is one of the workshops we offer with our registered dietitians and fitness experts. Our registered dietitians provide an array of classes to help you better understand how your food choices can positively impact your life.
*Private nutrition consultations are available upon request at an additional fee.
REDEFINING YOUR FITNESS GOALS
At Cal-a-Vie, we care about your health in every way and that includes fitness. Fitness is a crucial part of our program and our team is here to help you gain all the benefits through a variety of fitness options. We will help you decide what is best based on your fitness goals and you can schedule a private session with a personal trainer to get even more details about your personal goals.
Whether you are just starting to get into a new fitness regimen, are an athlete, are dealing with injuries or pregnant, we have something for everyone and will help you identify what works best for you. Of course, always consult with your doctor, but make sure to inform us of where you are in your health journey so that we can prepare for your arrival.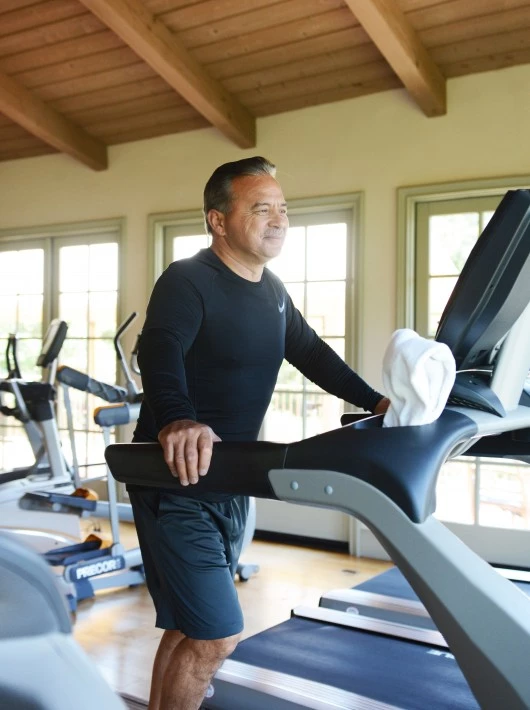 OVERCOMING STRESS AND ANXIETY
Stress and anxiety are big topics now more than ever. Our amazing team will help you discover ways to overcome this and more using techniques that we will teach you! From sound bowl meditations to our popular love letter class, you will experience a connection with yourself that can help you wash away the stress and become a whole new you.
FINDING RELAXATION TO REDUCE STRESS AND INFLAMMATION
Our amazing spa treatments, to include our CBD Himalayan coffee wrap, herbal poultice massage, antioxidant-rich vinotherapy, leg rejuvenation treatment, and our facial that will leave your skin youthful and glowing (to name a few), will help you relax and revitalize so that you feel total refreshment in your mind and body.
Whatever you need, we have the perfect program options ready and waiting to help you enjoy a life-changing Cal-a-Vie Health Spa experience.